Private Healthcare: Self-Pay UK Market Report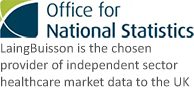 What the report covers
Past and future growth in self-pay
Trends in the insured versus non-insured market
The drivers of growth
The views of the major private healthcare providers, influencers and opinion leaders
Trends in online search for self-pay
Comparison of the 'fixed price surgery' schemes from the major providers
An analysis of private practice consultation fees and private consultant income
A detailed analysis of over 6,000 prices for 'fixed price surgery' from the UK's private hospitals
Who is the report for
Hospital & Clinic C-suite Professionals
Specialist Acute Medical Care Providers
Private Medical Insurance Groups
Clinical Commissioning Groups
NHS Foundation Trusts/ Private Patient Units
Banks
Private Equity
Legal
Think Tanks
Management Consultants
Want to know more? Our sales team can help.
Call:  020 78339123
Email: [email protected]
LaingBuisson's comprehensive report into the UK's private self-pay market. Sixth edition. Published 28th November 2019. (316pp)
Private Healthcare: Self-Pay UK Market Report 
"It is clear from our research that there is a greater focus on consumer needs within the UK self-pay market, whether this is at an 'entry level' for private and online GP services and diagnostics or promoting the affordability of elective procedures such as cataract surgery.  However, the sector must progress if it wants to deliver a better customer experience and a truly consumer centric offer for the self-pay patient in what is the only area of growth in the private acute healthcare market.  This report provides much greater insight than previously into the market drivers that are fundamental to sustaining and growing the UK self-pay market and the elements of the patient experience that are key to success."
Liz Heath, report author
The second edition of LaingBuisson's Private Healthcare: Self-Pay UK Market Study is vital reading for anyone involved in this highly competitive sector of the UK health economy, be they providers, commissioners, investors or advisors to the sector.
The report highlights the growth of self-funded private healthcare, driven by NHS waiting lists, demand management by Clinical Commissioning groups (CCGs) and a more consumer focused private healthcare sector and provides the background to a £1.1 billion market for self-funded treatment in the UK's private hospitals and clinics that has more than doubled over the last five years (£527million in 2013). One in four private patients are now self-funding their treatment rather than using private medical insurance.
Comprehensive pricing information on self-pay private treatment has been gathered by LaingBuisson's research team. Around 6,000 prices for private treatment were collected and are analysed in the report.
Supported by