Private Acute Healthcare Central London Market Report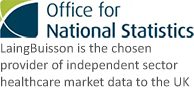 What the report covers
Market overview
Sources of funding
Independent providers
NHS Private patient units
Outer London
Appendices

Glossary
Regulators
Trade associations
Provider profiles
Financial appendix
Who is the report for
Hospital & Clinic C-suite Professionals
Specialist Acute Medical Care Providers
Private Medical Insurance Groups
Clinical Commissioning Groups
NHS Foundation Trusts
Investors
Banks
Private Equity
Architects
Property Developers & Consultants
Central & Local Government
Think Tanks
Lawyers
Management Consultants
What You Get
Print package – single-user Printed Hard Copy
Digital package – Multi-user Digital PDF and Data in Excel files + Printed Hard Copy
Want to know more? Our sales team can help.
Call:  020 78339123
Email: [email protected]
LaingBuisson's Private Acute Healthcare Central London Market Report. 6th Edition
LaingBuisson's comprehensive study into Central London's private acute market. Sixth edition. Published 25th February 2020 (355pp)
"Change continues in the central London acute medical care market. Much of this follows the trends of previous years, notably the strengthening performance of PPUs, the slow increase in self-pay and cost containment from private medical insurers. In the face of this, the return of the embassy market is very welcome and though hospital revenues from this channel have not quite returned to the high point of 2014, they have been important in buoying independent hospital revenues in 2018.
"The next few years, nevertheless, promise to be interesting in terms of competition in the market, and how this competition shapes the market in the years to come. While we predict that 2018's return to growth will continue, this is at a time when there are many new entrants to the market, some with a more traditional offering but others offering a new way of accessing private care to patients. Some are also offering employment to consultants, or at least new ways of engaging, which will inevitably have an impact on the 'fight for talent' in this most competitive marketplace, where being able to offer the services of leading doctor has a direct impact on the marketability of a hospital or clinic.
"While revenue rises, such competition suggests that profitability may not. This points to some sort of industry consolidation or restructuring as central London enters the competitive and global market of the 2020s."

Ted Townsend, report author
The sixth edition of LaingBuisson's industry-standard Private Acute Healthcare – Central London report, sponsored by the Medical Protection Society, is a trusted barometer of the market, and vital reading for anyone involved in this highly competitive market, whether as hospital/clinic provider, an investor or as an advisor.
Growth for independent hospitals has been underpinned by a resurgence in the embassy market, especially a move back to London of Gulf patients. In this, London has benefited from a corruption scandal in Germany and also from positive efforts to build relationships with organisations and individuals in the Gulf.
PPUs continue to benefit from a strong reputation for specialism for complex patients, perceived higher quality of care and lower prices and this is bringing in business, particularly from private medical insurers which are attracted by the value for money offered.
Both independent hospitals and PPUs are attracting more self-pay patients, though growth continues to be modest. Generally, when patients choose to pay it is for treatments, such as cataracts or orthopaedics, at the lower end of the price range. Otherwise, the trend to 'mix and match', e.g. paying for a private scan and then waiting for treatment on the NHS, prevails.
Supported by