Childcare UK Market Report 16ed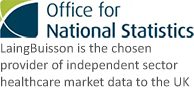 What the report includes

Market
Politics and Regulation
Payors
Major Providers
Investors
Staffing
Market Potential
Appendices
Glossary
Key Legislation Appendix
Regulators Appendix
Trade bodies Appendix
Commissioning bodies Appendix
Financial Appendix
Who is the report for

Independent nursery providers
Local authority providers
Policy makers
Banks
Private equity investors
Lawyers
Management consultants
What You Get
Print package – Single-user Printed Book
Digital package – Multi-user Digital PDF and Data in Excel + Printed Hard Copy
Want to know more? Our sales team can help.
Call:  020 78339123
Email: [email protected]
LaingBuisson's comprehensive study into the UK's childcare market. Sixteenth edition. Published 23 March 2020. (282pp).
"We believe that the childcare market will remain attractive to investors. Many are attracted because childcare is viewed as a socially responsible market to be in, but opportunities equally lie in earnings per share being accretive (namely, a nursery is worth more as part of a group) and there is strong support from debt providers. There are also opportunities for growth by outperforming the market by making better commercial decisions and the potential for internationalisation. There is also the opportunity to scale by means of new developments and by 'organic' growth and diversification.
 "There are, none the less, lessons to be learned from what has happened in the past two decades. Growth is not a given for investors and there is certainly a danger in growing too quickly. Some have failed by not understanding how to operate at scale and also not realising the potential impact of changes in the regulatory environment."
The 16th edition of LaingBuisson's Childcare UK Market Report is vital reading for anyone involved in this highly competitive sector of the UK economy, be they providers, investors or advisors to the sector.
In partnership with